Adding wayfinding or other signage to your office or shop improves a customer's or member of staff's experience in your space.
Interior signs are a great way to give customers information and help employees with navigating through their building. We specialise in designing and creating effective corporate office signs, 3d signage, display signs, modular signage, all the way down to simple safety warning and direction signs.
Types Of Signs We Create
Way-finding and Directional Signage – To help visitors and new employees orientate their way around a building, including the visually impaired.
Window Film & Vinyl Graphics – Added to your office or shop for privacy, security or just for simple decoration.
Printed Wall Graphics –  For internal or external use and can be temporary or permanent. A lovely way to transform any wall or surface for that matter and cost-effective – make the most of your wall space.
Wall Art – To brighten up the place with a not to be missed graphic, message or image. Useful for showcasing past work or achievements.
Business Sign Outdoors – The first impression is so important, so make sure your signs seen from outside portray the right message for visitors, customers and staff.
Recent Project – Capital Credit Union
Capital Credit Union @ The Brunton, Musselburgh.
Products used: Roller blinds, cut vinyl, directional signage, branded graphics, manifestations.
Website: https://www.capitalcreditunion.com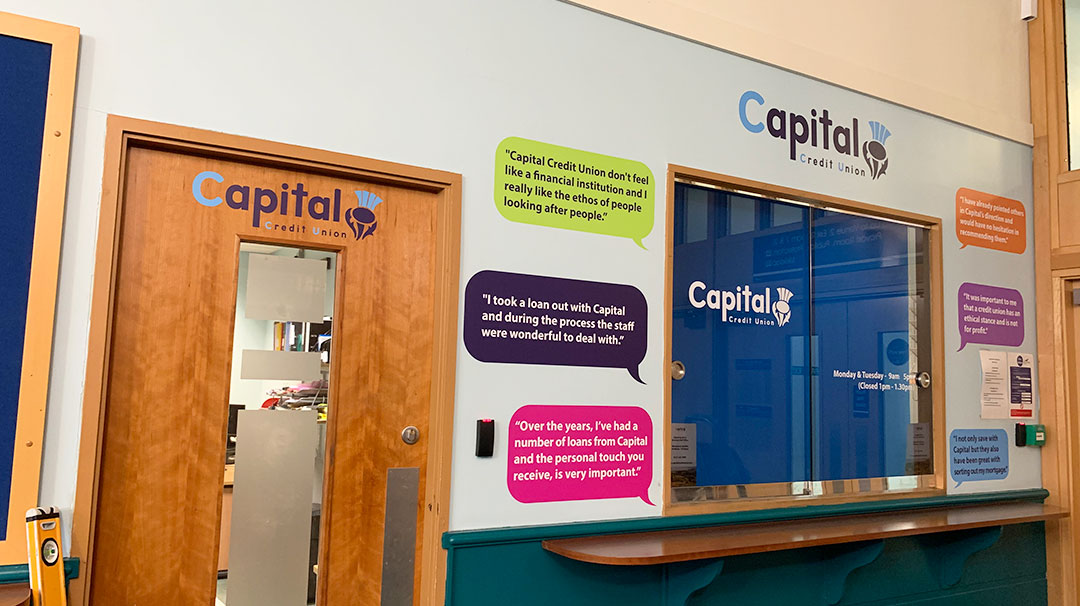 RANGE of INTERIOR SIGN DESIGN and SOLUTIONS
When creating signage for an office and a business we make sure that they are made specifically to be fit for purpose, using only the highest quality materials in their construction, the choice we implement in creation for the signs is varied, ranging FROM acrylic letters, metal signs, composites to contemporary vinyl and we also if necessary utilise lighting for maximum impact and effectiveness, which could be in the form of LED illumination, halo effect and back lighting.
We take pride in offering the highest quality signs, using a cutting-edge High-Tec manufacturing process to achieve the best results for our clients. Our bespoke design and creation service for interior signage will promote your corporate identity and harmonise your brand throughout your business environment. We will be more than happy to discuss what are the best options for your particular situation.
Why not give us a call on 0131 653 5700 and we can arrange a meeting over a coffee to chat about what we can do for you today.