Ultra Wide Printing Services: Amplifying Your Visual Impact
At Eastern Exhibition & Display, we are masters of large-format printing and graphic solutions, offering a comprehensive array of graphic installation services that cover an extensive spectrum. Whether you require exhibition graphics, hoarding signage, retail graphics, sports signage, office signage, or branding materials, we have you covered.
Our arsenal of cutting-edge large-format digital printing equipment is designed to exceed your expectations. This includes a state-of-the-art printer capable of producing super-wide format graphics, perfect for applications like large window decals, stadium branding, and event graphics. Moreover, we employ the latest in large-format digital cutting technology, allowing us to craft top-tier large-format graphics in any shape or texture required.
If you're ready to elevate your visual presence, get in touch with our team today, and we'll be delighted to assist you.
Unlocking the Potential of Large-Format Print
Ultra wide printing, often referred to as super-wide or grand-format printing stands apart from conventional printing due to its capacity to produce visuals that exceed the capabilities of standard commercial printing machines. To tackle these larger-than-life projects, specialist production equipment is essential.
While the term "large format" can be relative, it generally refers to products up to 5 metres in width, encompassing a wide range of applications, including but not limited to:
Large Vinyl Signage & Graphics
Large Vinyl Window Decals
Large Tension Fabric Systems (TFS) & Graphics
Construction Site Hoarding Signage
Promotional Signage and Billboards
Vertical or Horizontal Banners
Large Format Acrylic Signage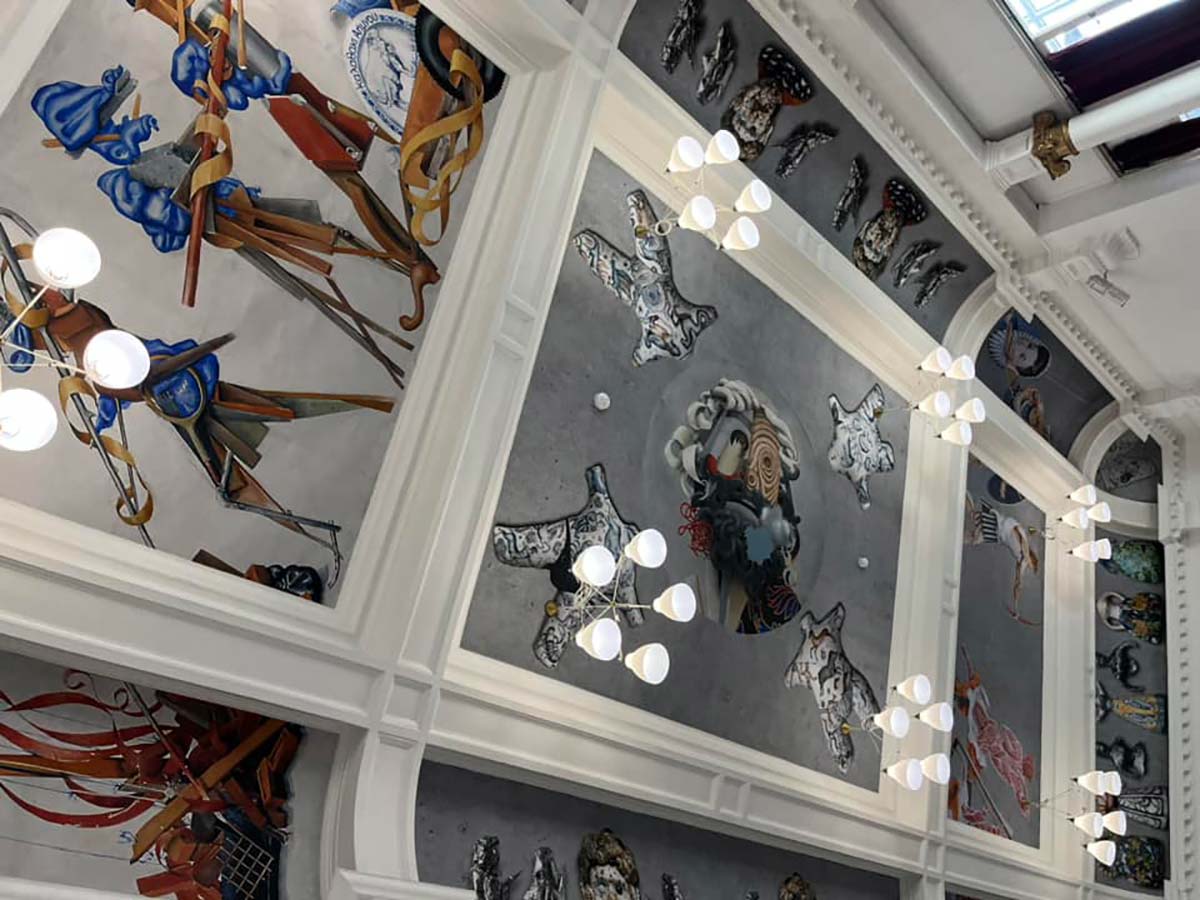 This ceiling in Summerhall. Printed paper applied to the ceiling – a creation of John Kindness' The Odyssey exhibition.
The Advantages of Super Wide Format Printing
The utilisation of wide-format graphics offers a multitude of advantages, making them an integral component of many brands' creative strategies. These benefits include:
Enhanced Visibility: Large visuals can be seen from greater distances, significantly boosting your brand's visibility. They are particularly effective for events and venues on a grand scale where smaller graphics would go unnoticed.
Durability: Large format graphics are built to last and can withstand various weather conditions, ensuring they remain in pristine condition for extended periods during campaigns, exhibitions, or events.
Quality and Speed: Advances in digital printing technology have made wide-format digital printing not only affordable but also capable of achieving ultra-high resolutions and vibrant colour intensity. Additionally, it allows for rapid production to meet even the tightest deadlines.
Versatility: Large format printing provides flexibility in terms of materials and purposes. From hanging structures for exhibitions to freestanding or foldable point-of-sale (POS) and point-of-purchase (POP) displays, as well as full wall and vehicle wraps, there are countless creative applications for large format graphics.
Why Choose Eastern Exhibition & Display for Large Format Printing?
Eastern Exhibition & Display is your trusted partner for printing, offering unparalleled expertise, state-of-the-art equipment, and an unwavering commitment to delivering exceptional results. Here's why you should choose us:
Experience: With a legacy of serving clients from our Edinburgh headquarters, we possess the experience and knowledge to guide you through every step of your project, from concept to design, production, installation, and dismantling.
Material Mastery: We understand the unique properties of various materials and their compatibility with different inks for both outdoor and indoor applications.
In-House Production: Our facility is equipped to handle large format graphics production in-house, utilising rigid and roll media to ensure wide and high-quality products.
Deadline-Driven: We excel at meeting deadlines while maintaining exceptional quality and staying within budget, ensuring your project's success time after time.
When you choose Eastern Exhibition & Display, you're opting for a partner who shares your commitment to excellence and visual impact. Let us bring your vision to life with our unparalleled ultra-wide printing services.
All content © 2023 Eastern Exhibition & Display
All rights reserved
Eastern Exhibition & Display is a limited
company registered in Scotland.
Company No SC082988